The work of Enersi in the field of photovoltaics was to develop power, through research and contracting of the sites may be appropriate, the design (electrical, civil and environmental), the conduct of technical and administrative procedures aimed at obtaining the authorization of the acts to build industrial plants for the production of electrical energy.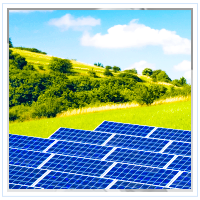 The Enersi, has been engaged in the design of photovoltaic systems for more than 35 MW, obtaining permits for more than 14 MW and starting systems for over 4 Mw. Enersi has always focused on innovation, implementing its corporate structure through a professional development time to immerse themselves in the international market, succeeding in a few years to become a joint stock company with a share capital of € 1,000,008.00.
UPGRADE PHOTOVOLTAIC
All existing solar power plants are under exploited and can be optimized increasing their yield of at least 10%.
A plant of 1 MWh produces an average of 1,300,000 kWh per year. Once optimized with our systems it could produce at least additionally 130,000 KWh, equivalent to about € 30,000 per year.
Our experience and technology can provide tailored solutions depending on different types of power plant. In broad terms, the 'breakeven' of the initial investment is reached after a year and a half, while the plant will continue to generate cash for its entire life.
To improve the performance of your solar power plant...
Call us at +39 0744 441385 we have innovative solutions!